Go Green GoSimples
GoSimples offers sustainable "green" advertising. Unlike printed publications that use up trees and probably get thrown in the bin, our UK based website directory is kind to the planet, and will always be here.
Instant Updates
Unlike printed publications GoSimples online advertising allows you to edit, change, update or modify your business listing at anytime. So for example, if your telephone numbers needs changing, you can do that instantly online. If you have it printed in 5000 publications, then it's not so easy. GoSimples allows you to edit or customise your business listing whenever something might change in your business.
Let's get started
Adding your business listing on GoSimples is relatively simple. But to help you get the best from your listing we want to explain some of the steps and offer suggestions so your business listing does as well as it should.
We have provided a video for you to watch.
UPLOADING YOUR IMAGES - Get your photos ready first!
On GoSimples you can add up to 12 photos to highlight your listing. Don't worry if you don't have 12 images right now, you can always add them later by editing your listing at anytime.
Name Your Images -
We suggest renaming your images before uploading them so they appear in the order you would like them to. This is what we mean - here is an example:
Your main image that will show first in your listing - rename that to something like 01-company-name (replace company name with your own business name). Then in order you can then call the remaining images 02, 03, 04 etc.

Resize Your Original Photos -
Bear in mind that most cameras, smartphones will take pictures at high resolutions. If you can, we recommend using images that are landscape where possible and approximately 1128pixels wide by 750pixels deep. You can still upload portrait styled images as well. So BEFORE you do anything else, why not get these images ready on your computer. Then after you have registered, chose the plan, at least you will be ready to create your listing.
You need to register first
Before you can add a business listing on GoSimples you will need to create an account, or if you have already registered, then sign in. Users who have not created an account with us will be unable to advertise with us on GoSimples.
Decide which plan you want
We have created 5 unique plans for you to choose from. Our Lifetime Plan is a popluar choice especially with many of our customers. It's a one off payment which guarantees a MINIMUM of 3 years advertising on GoSimples. Based on current charges, that's an incredible saving of 22% over 3 years. The 4th year onwards means a 100% saving!!
*Prices shown below are examples only. They were correct at the time on 16th April 2019.
There are 5 different plans to meet each users needs. Monthly or Annual Plans are invoiced accordingly. The Lifetime Plan is a one-off payment and is ideally suited for most types of business users that are in it for the long run.
Lifetime Plan - Special Launch Promotions
At GoSimples we wanted to provide customers with the opportunity of having a business listing that did not need to be renewed every year adding to their costs. Our lifetime plan is designed to do just that - a one off payment for the life of your business listing!
*The lifetime plan is GUARANTEED for a minimum of 36 months from your initial payment being made, subject to terms and conditions.
Payment Options
When it comes to making a payment for your selected plan, you can pay using a Credit or Debit Card via PayPal. You don't need to have a PayPal account to do this. Or you can choose Pay by Invoice, and send a Bank Payment using your own online banking app.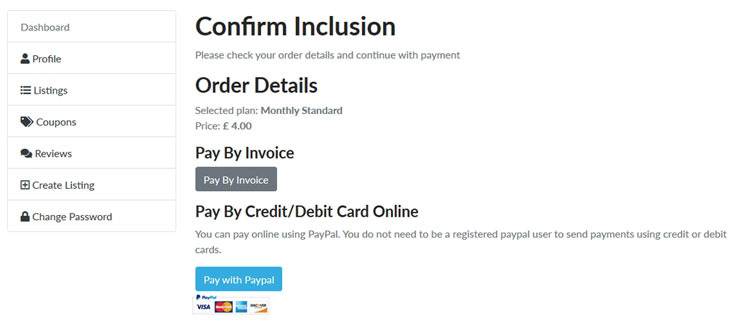 Monthly or Annual Payments
If you choose to pay monthly or annually for your subscription, then you have the options to setup a recurring payment on PayPal, or we will invoice you once per month (or per year).
Create your advert
Once you have registered an account, your next step is to create a listing.
1. Map - Click on the map to create a marker representing the business location.
2. Type in your business name
3. If you have a logo upload it.
4. Enter your business address, town, city and post code.
5. Enter your telephone area code and phone number (if this is a mobile number then ignore the area code).
6. The key introduction area is limited to 100 characters. Make the key introduction really stand out!
7. Add a description of your business. Let people know what services/products or things you offer.
8. If you have a website, twitter or facebook URL then add these in.
9. When it comes to choosing a category try to locate a sub category that best describes your business type. This way your listing will appear in both the MAIN CATEGORY as well as the sub category.
10. Put down your hours of opening and closing.
11. If you would like to tell people more information about your business, add this under Other Information.
12. Upload photos to showcase your business.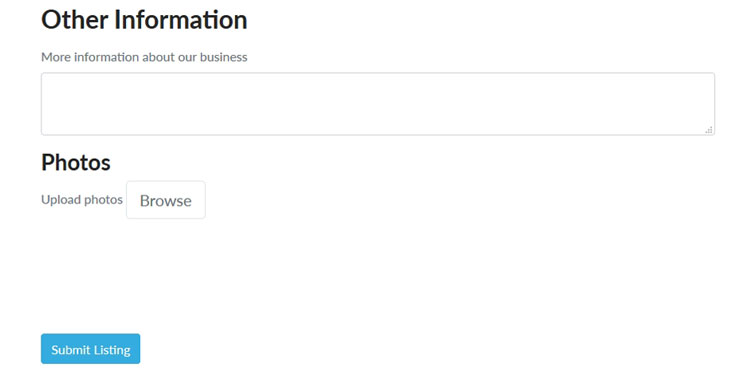 13. Finally choose submit listing.
Listings and Reviews are manually approved
All listings and reviews are manually approved. This prevents anyone from adding information until one of our team review and approve the listing and/or changes made to a listing by any user.